Defoamer LS 6030 LS 6060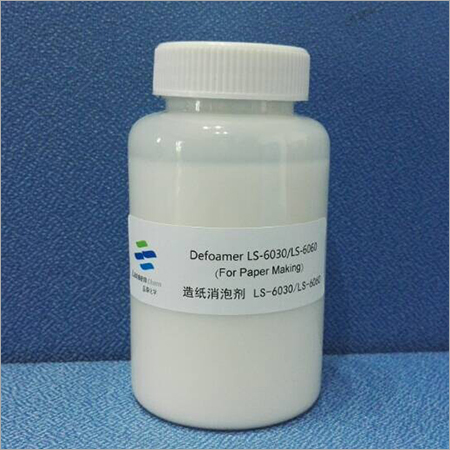 Defoamer LS 6030 LS 6060
Product Description
Functions:
Adjusting to mash with different pH values, and in addition to a temperature as elevated as around 80

Keeping up long-term impact in consistent white water processing system

Devising great impact on paper production machines, without influencing on the measuring procedure

Enhancing the working of the paper machine as well as the standard of the paper

Proceeding with the degasing and the defoaming without exploiting any reaction on the making of paper
Technical Details:





LS6030

LS6060

Solid Matter (105,2h)

30 1%

60 1%

Mixture

Blend of different degasing materials

Visual aspect

light-colored milk-like coating

Particular gravity (at 20)

0.97 0.05 g/cm3

pH(at 20)

6.0 8.0

Consistency (at 20 and 60 rpm, max.)

700 mpa.s
Use:
Using a dose of 0.01 0.03% of mash or choosing an ideal amount of dose as per the lab experiment
Secure Use:
The non reduced product may induce damage on human eyes and skin. Amid the utilization of the item, we recommend that workers utilize defensive goggles and gloves. If the eyes and skin comes in contact with our Defoamer LS 6030 LS 6060, wash them with running water.
Package:
23tons/flexibag or 200KG plastic drum or 1000KG IBC
Capacity:
It ought to store and transport under moderately elevated temperature, under the first fixed bundle and normal temperature. If LS8030 is frosty, please mix enough prior to put into utilization. The life on shelf is one year.
Specifications:
ITEM

LS6030

LS6060

Solid content (105,2h)

30 1%

60 1%

Composition

compound of various degasing materials

Appearance

white milk-like emulsion

Specific gravity (at 20)

0.97 0.05 g/cm3

pH(at 20)

6.0 8.0

Viscosity (at 20 and 60 rpm, max.)

700 mpa.s
Contact Us
Head Office : Rm No. 1502, Yixing International Economic & Trade Building, 21 West Jiaoyu Road, Yixing, Jiangsu Sheng, 214200, China
Phone :+8613861509095