Wet Strength Agent LSW 50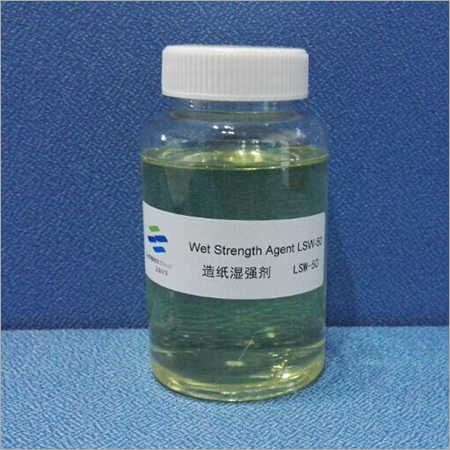 Wet Strength Agent LSW 50
Product Description
Features:
Wet strength agent LSW-50 is new sort damp quality substance of Polyamide Polyamine-Epichlorhydrin (PPE), it can be assimilated on fiber in mash as well as it can increase paper damp quality by shaping thermo-setting sap and for all time settled in fiber, following it responds to filament in dryer segment.
Functions:
LSW-50 can clearly increase paper dry and wet quality by framing net frame. In the meantime, it can enhance seepage in wire part via change of filament flocculation. Additionally, our product is quickening agent for measuring agent as well as can enhance pace of paper flex.
Technical Details:


| | |
| --- | --- |
| Visual aspect | light-colored yellow clear fluid |
| Strong Matter % | 12.5 0.5 |
| Ionic Attributes | cationic |
| Viscousness | 25-75 cps (25) |
| pH | 4-7 |
Application Method:
Wet strength agent LSW-50 can be irregularly included in blending chest, additionally can be constantly included stuff box. Measurement of dose is typically vary from 5kg-35kg of 100 kg paper. Usage viscosity is 1%-5% (rely on speed of the paper machine).
Uses:
Our product is water-solvent, which means it is a-cationic thermo-setting gum. It is odorless, non toxic and not one of formaldehyde polymer. It is appropriate to produce paper under slightly and neutral alkalic and additionally acidic condition. Additionally, it is greatly improved than urea sap and melamin gum in the viability of use of the wet strength substance. These days, it has been generally utilized as a part of making cleaning and dry paper such as wet napkin, mirror cleaning paper, outdoor paper, craft paper, pastel paper, atlas paper, seeding paper, banquet napkin, facial tissue, wrapping paper, project paper, bag paper, fruit paper; bundling material (fruit and meat wrapping paper, paper cup, tea paper); paper in damp material (photo base paper, autocopy paper, napkin for baby, one-off paper for health care centers) and various other exceptional utilized paper .
Storage and Package:
10 tonne or 2 tonne plastic drums are available

Our product ought to be kept in a dry place, secured from direct sunlight and frost

The temperature should be differ from 5- 30

6 months is the longevity of our product
Contact Us
Head Office : Rm No. 1502, Yixing International Economic & Trade Building, 21 West Jiaoyu Road, Yixing, Jiangsu Sheng, 214200, China
Phone :+8613861509095