Water Resistant Agent LWR-03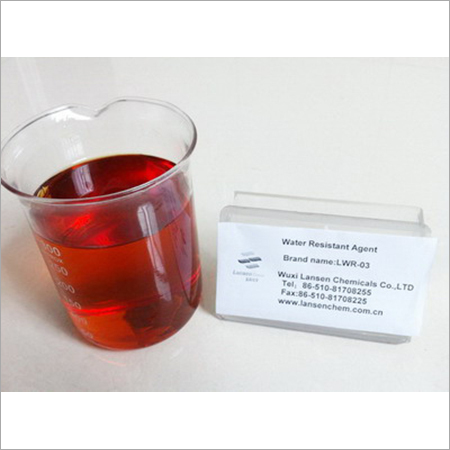 Water Resistant Agent LWR-03
Product Description
Water Resistant Agent LWR-03
Properties:
The product is a modified water soluble polyamide polyurea (PAPU) water resistant agent. It is free of formaldehyde. It can be used for coating of different types of coated paper, it can increase the water resistance of the coated paper greatly, and can improve the wet adhesive and wet abrasion resistance, it can improve the ink absorbability of paper, and the printability, and give good glossiness of the paper, its a new type of coating additive. It can also improve the printability of paper, so its a printability improving agent.
Features:
The product has fast curing time, the paper from machine has good water resistance.
The ink absorbability and printability can be improved greatly.
It can be applied in coating of different PH range.
It is free of formaldehyde, it has no adverse impact to the human or environment.
It has no affect on viscosity of coating
Technical Specifications:
| | |
| --- | --- |
| Item | Index |
| Appearance | yellow transparent liquid |
| solid content % | 39-41 |
| Dynamic viscosity | 100 mpas max. |
| PH | 3.5-5.5 |
| Solubility | Completely soluble in water |
| Ionicity | cationic |
Applications:
The dosage is 0.5-0.6% of the dry paint, the addition point is after dispersion of paint before adding of latex.
Package:
250kg/drum or 1000kg/IBC
Storage:
Store in dry and cool, ventilated area, prevent from frozen and direct sunshine.
Shelf life: 6 months.
Contact Us
Head Office : Rm No. 1502, Yixing International Economic & Trade Building, 21 West Jiaoyu Road, Yixing, Jiangsu Sheng, 214200, China
Phone :+8613861509095